...breaking up is hard enough...
I don't usually expect flowers, especially not from Physics teachers who will remain nameless. So the Pynk Pyritz, after 3 happy years together, finally had our final lesson last night. Quite bittersweet. Except, surprisingly, there were several flowers there, anonymously... yep. Both Claire and I had apparently been IMing him a few days before about this. Weird.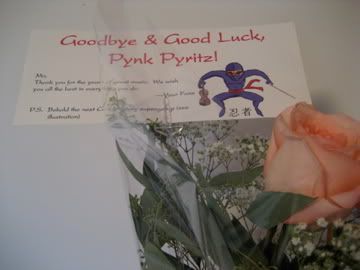 mo posted at 4:10 PM.